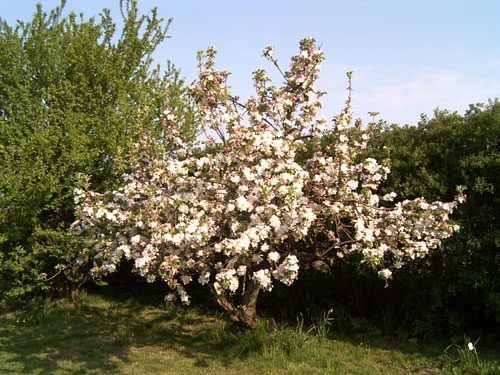 Een Appelgeschicht
Dat weer Harvst un de riepen Appels wöörn plückt un sorteert. Nu legen se dicht an dicht in Kisten verpackt neveneenanner un drömten vör sik hin. Ok uns Appel weer dorbi. De Kisten stünnen op en Appelhof in en Lagerhuus, dor weer dat recht koolt. Af un an wöör de grote Döör upmaakt. Denn kemen Männer un söchen Kisten ut un de güngen mit en Auto up de Reis. Vun den Larm weer de hele Sippschaft denn upwaakt. All keken neeschierig, up se ok an de Reeg weern. Wo dat wull hingüng?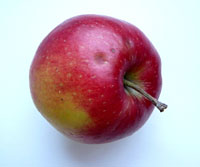 Uns Appel höll de Luft an un leeg musenstill. Gor to geern weer he ok al up de Reis gahn. Aver de grote Döör wöör wedder tomaakt. He kunn wieder drömen un slapen. He drööm vun sien Kinnertiet, dach an den wunnerboren Sommer un an de warme Sünn. Geern weer he wedder up sien Boom. Dor hebbt em de lütten Vagels besöcht un em en Leed vörsungen. Wat weer dat schöön. Wenn dat to hitt weer, keem de Wind un strakel em de roden Backen. Nu schudder em so'n beten vör Küll. Aver denn sleep he wedder in.
Mit een's wöör he waak. De groot Döör wöör wedder upmaakt. De Männer nehmen sien Kist un denn güng dat mit en Auto up de Reis. Buten wöör he vun dat grelle Licht blend. He kunn gor nich kieken. Dor leeg överall Snee un dat weer noch köller as in dat Huus. Up de Fohrt stött he ümmer mit sien Navers tosamen. Dat weer en Wunner, dat he keene blauen Placken kreeg. Endlich weer de Fohrt to Enn. All tohoop kemen se in enen groten warmen Ruum. De Kisten wöörn utpackt un fien in en Reeg legen se nu up en Boord. En Fru keek sik de Appels an un köff en Pund. Uns Appel weer dorbi. Wedder güng dat up de Reis. Dittmal in en Inkoopstasch! De Tasch bummel an en Fohrrad un unsen Appel keem wedder in de Küll un stött sik up de Fohrt böös de Backen.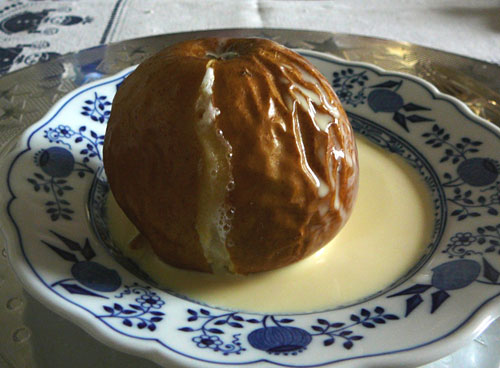 To Huus keek lütt Anna glieks in de Tasch un reep: "O, Mama, wat hest du för schöne Appels mitbröcht. Gifft dat hüüt enen Braatappel?" Wat dat wull nu heten sull, Braatappel? Dat Wort harr uns Appel noch nie höört.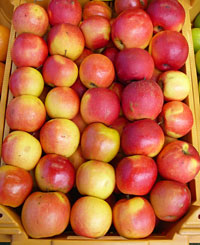 Dat duur gor nich so lang, dor wüss he Bescheed. De Fru putz un wisch em gründlich af, güng mit em to'n Kachelaven, maak de Röhr up un legg uns Appel in de Braatröhr. O, wat weer dat hier schöön warm. He rekel un dreih sik in de Warms vun en Siet up de anner. He müss nich mehr freren. Wat weer dat schöön. Aver dat duur gor nich lang un he fung an to sweten . He müss sik Luft maken, sien Huut wöör em to eng. He dreih sik na de anner Siet, aver dat help allens nix. Dat weer eenfach to hitt. Puff, reet sien Huut twei. Nu kunn he eerstmal wedder Luft kriegen. Aver dat duur blots en korten Ogenblick. Dittmal zisch un puff dat ornlich un en groot Lock reet in sien Huut. He stöhn so luut dorbi, dat harr de lütt Anna höört.
"Mama, ik glööv de Braatappel is goot", reep se mit ehr helle Stimm. Modder keem mit enen Töller un haal den Appel ut de Röhr. As he an de Luft keem, sack he in sick tosamen. Ok de kole Vanillesoß, de Modder ut den Melkputt över em goot, kunn em nich mehr to'n Leven bringen.
Nu leet lütt Anne sik dat goot smecken. Mit enen scharpen Lepel güng se den Braatappel to Liev. Gau harr se em verputzt un blot de Appelgriepsch leeg noch up den Töller. Dor wöör se en lütten brunen Kern wies. "O, Mama kiek mal, dor sünd ja luder lütte Kamern un överall is en brunen Kern bin." Se keek ehr Modder mit grote Ogen an. "Wenn ik so'n Kern in de Eer steek, wass dor denn en niegen Appelboom?"
Text und Fotos: Antje Heßler
Unser Travemünde, 2011, Heft 1/345